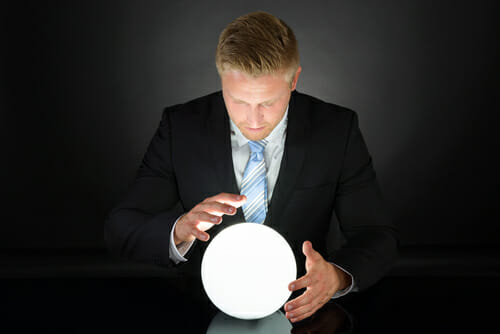 Beware the Ides of March. NO! Beware the soothsayer! Remember reading Shakespeare in your high school English class?
The classic work of Julius Caesar gives the prognosticating soothsayer these words, "Beware the Ides of March." As it turns out, the 15th of March was indeed a bad day for Caesar. It was the day Caesar would utter the line "Et Tu Brute" as he lay bleeding to death after being stabbed by his "friends." Caesar definitely should have heeded the words of the soothsayer.
Should you, too, be wary of soothsayers? In real life, there are very few living, breathing, accurate fortune tellers. And yet there is something hardwired in us that wants the certainty of knowing what will happen tomorrow, next month and next year.
As you probably know, I'm a lifelong Beaver Believer and bleed Black & Orange. While there have been things to cheer about (see Women's Basketball Final Four and Men's Baseball National Championships), success on the gridiron has been, let's say, limited!
This season the pundits, today's soothsayers, were expecting more of the same from Beaver Football. Here are a couple of links to preseason PAC-12 predictions for the year:
While the Beavs fell a yard short of earning a bowl game berth, they wildly exceeded expectations this season. A season win-loss record of 5-7, with a PAC-12 record of 4-5. By objective measures, mediocre at best. But for a Beaver Believer, it was inspirational!
On the other hand, you have the juggernaut Alabama.
The Tide finished the season with a convincing bowl game victory and an overall record of 11-2. But for their fans, it was a letdown. When the goal is a national championship, anything less than the College Football Playoffs is under performing.
Why is this important? Well, here is the takeaway: Expectations matter, and they are baked into current prices.
Financial markets incorporate the expectations of all participants into a single price for each investment. To outsmart the market, one has to out predict the expectations of the various participants of unknowable future events and outcomes. A well-run company can very well be a bad investment, and a company with recent poor performance might be an excellent future investment.
The financial media is filled with soothsayers. Some will be right; most will be wrong. All will be Monday Morning Quarterbacks. Beware the soothsayer, and embrace uncertainty.
As far as sports go, hope springs eternal! I'm sure the Beavs will be "bowling" next year!