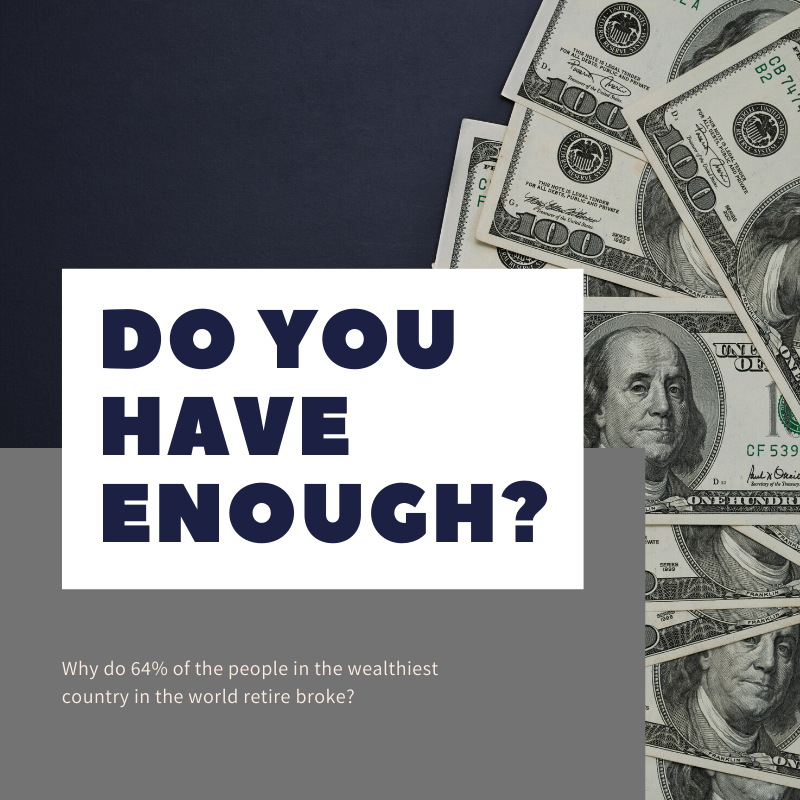 How do you know whether you have enough? Of course, you have to decide enough of what? Camels, goats, or sheep are not a measure of our wealth anymore, so usually, we consider your financial assets and financial income.
There is no one answer to this question. Because there are so many variables in your wants and desires such as:
When do I want to retire?
How much do I want to spend in retirement?
How much do I want to leave for others?
What is my ability to accept the risk of growing my wealth towards this goal?
There are only three places that wealth is going to come from for you to live on in the future:
Government, mostly Social Security
Your employer, this used to be substantially in pensions, which do not exist with most employers today
Yourself, what you save and invest
Now, of those three things, you only control the last substantially. It has become very apparent to me that financial success has little to do with how much people make, and much more to do with how much they save.
Here's the problem; subconsciously or consciously, we aren't realistic about what's going to happen at retirement. We say we want to retire at age 60, but we don't start saving until age 55. We say we want to retire, but we have no idea what we spend or how much money we'll need for living expenses. We say we want to retire with a specific amount of income at some age but have no idea what it takes to make sure we are not broke before we are dead. The problem is PROCRASTINATION!
The only way to answer the question, "Do I have enough?" is to beat procrastination and work with a financial planner to start planning today. Because it is always easier to take action towards retirement tomorrow than today, but tomorrow never comes. A financial planner serves as a coach to keep you on track, motivated and focused on processes that should lead to success. However, so often we tell ourselves the lie that we would be better off doing it ourselves.
People that invest on their own get over 37% less return than just being in the market.1 People that run their financial plan tend to procrastinate until it's too late. Why do so many successful people die without an estate plan? Why do 64% of the people in the wealthiest country in the world retire broke?2 Why do so many people get emotional and decide at the wrong time? Because of the lack of planning!
The benefit of working with a good financial planner can be the following:
More organized, which leads to better conversations
Better conversations, which creates better decisions
Better decisions, which creates fewer mistakes
Fewer mistakes, which creates less worry
Less worry, which allows you to live better
Live better, which enables you to enjoy life more
So, answering, "Do I have enough?" starts with working with a financial planner who can substantiate the question as it relates to your own life and who can help you create a plan that enables you to have enough in the future. But you have to start today!
1 https://www.thebalance.com/why-average-investors-earn-below-average-market-returns-2388519
2 https://finance.yahoo.com/news/survey-finds-42-americans-retire-100701878.html
The information provided here is for general information only and should not be considered an individualized recommendation or personalized investment advice.