Do you have the four pillars for financial success in retirement?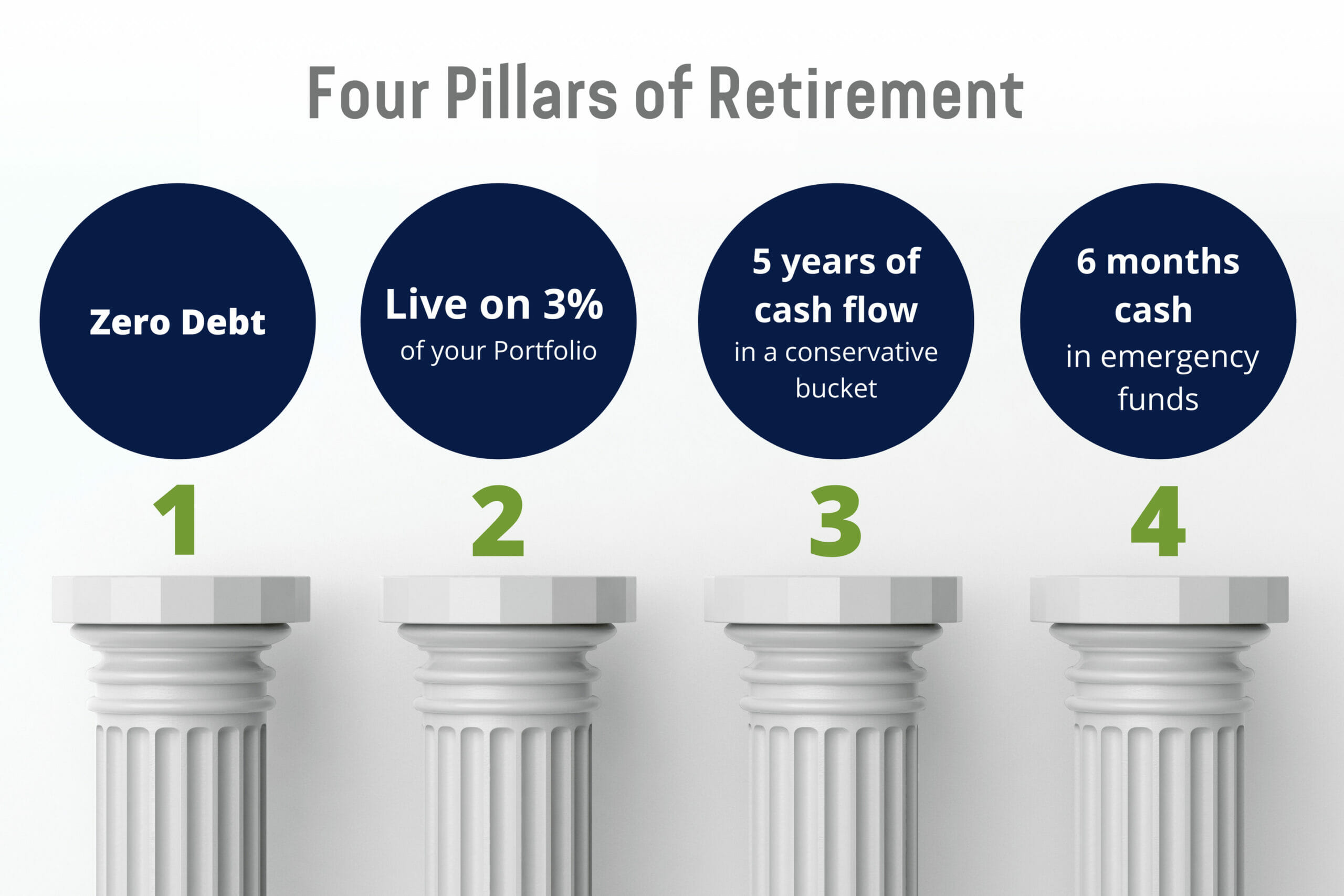 18 Questions Blog Series
At von Borstel & Associates, we ask our clients 18 critical questions. The answers to these questions determine how we partner with each client and manage their wealth. This week we're talking about the four pillars for financial success in retirement.
Follow along with us through the 18 Questions Blog Series. You may be surprised by what you discover about yourself and your financial plan!
---
#15 – Do you have the four pillars for financial success in retirement?
Are you ready for retirement? The four pillars of retirement are a critical part of our Vision to Wealth Process®. Many people believe that living on less than 4% of your wealth is adequate for a successful retirement. But there are so many things that attack us! Consider the following threats.
Inflation

Market Fluctuation

Health
None of these threats are predictable in scope or cost, but they will affect you! The four pillars of retirement will help you mitigate the effects of inflation, market fluctuation, and health. I encourage you to reevaluate your retirement plan and match it against the criteria discussed below.
The 1st pillar: Spend less than 3% of your financial wealth on your lifestyle.
This includes income taxes, property taxes, insurance, travel, and day-to-day expenses in that percentage. Most studies agree that you still have a chance of failure even when spending 4% of your financial assets. How many of my clients hire me to fail? None! That's why I advise them to spend no more than 3%.
The 2nd pillar: Have six months of cash flow in emergency funds.
I think most of us can agree that it's wise to have cash available in emergencies. Cash on hand keeps us from having to sell assets at a discount. If we want to keep our emergency fund long-term, there should be a plan in place to refill it.
The 3rd pillar: Have five years of cash flow in a conservative bucket.
Short-term bonds are rarely affected by inflation or market fluctuation. We know the market will go down, but we don't know when. If we have five years in a conservative bucket, we do not have to spend out of the market when it is down, and we need money to cover expenses. It reduces risk significantly.
The 4th pillar: No debt!
Yes, including your house. Now, many people will argue this doesn't make financial sense. And sometimes they are right! But if we want to be bulletproof – able to survive no matter what happens in markets or the world, being debt-free is essential. It gives us the flexibility of living cheaper, spending less, and surviving-unpredictable events in our economy. Yes, we can borrow money with tax deductibility for a lower cost than we will earn in markets long-term. But if we're going to eliminate any chink in our armor, we should be debt-free.
There is no neutral usage of money. We are either improving our chances of success or our chances of failure. If you want to be successful, you need to be financially prudent, fiscally responsible, and intentional about your success.
Let's begin that journey today!
---
Investment advisory services offered through von Borstel & Associates, Inc., an SEC Registered Investment Advisor.